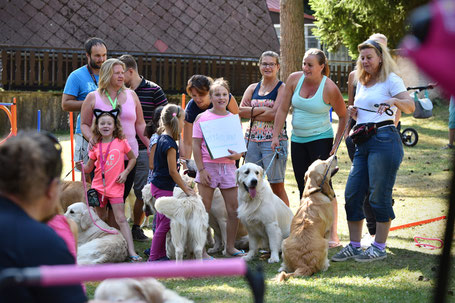 For english - please scroll down.... :-)
Každoročně se setkáváme na Vysočině s našimi odchovy a přáteli a letošní rok nebyl výjimkou. A opět jsme se v hojném počtu sešli v krásném prostředí obce Tři Studně penzionu Pegas. Po letech chovu, zkušenostmi s X výcvikovými tábory nebo výstavami se snažím tuhle událost zaměřit na zábavu a rodinně zaměřené majitele našich štěňátek a přátele. Proto je pro ambice vyhrazené jen dopolední zápolení o Rostíkův poklad. Zatím pokaždé ho soutěžící našli, tak buď Rostík špatně schovává a nebo mu vysloveně dělá radost, že si všichni užijí cen, které pro ně nachystal. :-)
V pátek jsme si hezky popovídali, vyvenčili a v sobotu to vypuklo. Od dopoledne do odpoledních hodin jsme hledali poklad. Letos byly dvě nové disciplíny a dost jsme se u nich pobavili. Psí twister měl trochu jinou podobu, slalom opět složitější a nové překonávání nafukovacího vaku nás zabavilo, ale neomylně opět nejvíc bodoval aport z vody za účasti majitelů, který v horkém letním dni všechny osvěžil a zbytek účastníků rozesmál.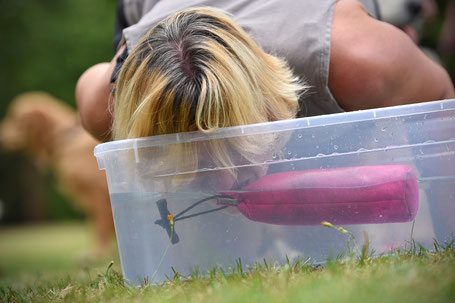 Naštěstí se povedlo nasbírat dost indicií a hlavně vychytralá omladina hádala a skoro všem vyfoukla poklad dřív, než se dosoutěžilo. Vše ale dobře dopadlo. Poklad byl nalezen a každý odešel s nějakou drobností.
V odpoledních hodinách se konala také již tradiční charitativní tombola. Letos jsem si dovolila po odsouhlasení všech účastníků určit za účel tomboly vozíček pro našeho zachráněného Buddyho, který ho bude nejspíš brzy potřebovat a chtěla bych touto cestou moc poděkovat jednak za ceny, které nám do tomboly všichni přivezli i za nákup lístků. Velmi mne vaše podpora dojala. 
Večer už následovala tradiční grilovačka, pak jsme sebou někteří plácli do vířivky a šampus tekl proudem. V neděli už nás čekalo jen poslední venčení a loučení. 
Chtěla bych moc poděkovat všem fotografům, kteří pro nás ten super víkend zachytili, všem co dovezli předměty do tomboly a HLAVNĚ!!! ÚPLNĚ VŠEM, co si na nás našli čas, vzali svoje ratolesti dvounohé i čtyřnohé a dorazili (někteří i z veliké dálky) a opět z tohoto víkendu udělali parádní rodinnou sešlost plnou uvolnění, legrace a smíchu a já měla možnost zase vidět část své "chovatelské práce" pohromadě a nejen ty, ale i pejsky našich přátel.
Je to akce, která mne vždy i přes únavu spojenou s organizací, nabije velkým množstvím pozitivní energie a to jak se naše lidsko-psí rodina neustále rozšiřuje, jak se spolu lidé dokáží pobavit bez velkých kynologických ambicí a jen v rámci přátelských vztahů, mi vždy naleje trochu čerstvé krve do žil. Můžeme tu řešit pejskařinu, ale také si jen popovídat, pohrát a seznámit mezi sebou další lidské generace, protože malých kynologů nebo prostě jen nejlepších kámošů těch našich zlatíček, nám každý rok přibývá. 
Tak vám za to všem moc děkuji a dobrá tedy, bude i pátý ročník příští rok :-)
Za fotky ještě jednou moc díky Pájovi Kohoutovi a Tomáši Novákovi. 
Fotogalerie níže je plná krásných a velikých fotek, tak jí dejte trochu času na načtení :-)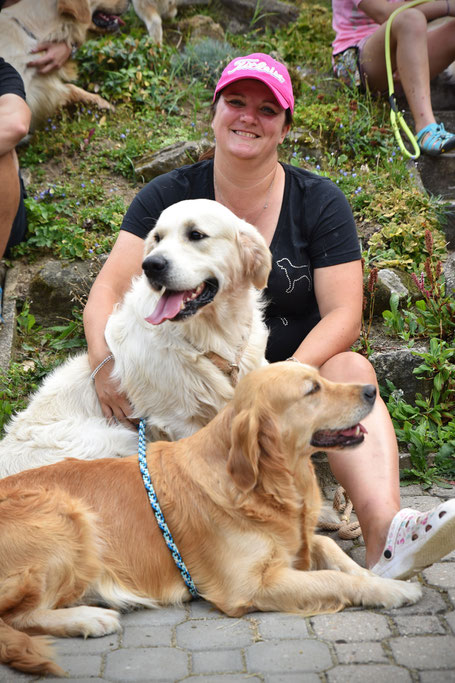 This year we had the fourth annual weekend stay I organise for families of our furry babies and friends. We met yet again, in lovely place where all is set for comfort and good times with our doggies.
Once again Saturday was taken by a Rustys treasure hunt and all participants were competing for hints to whereabouts of the prize. Luckily, no one did  hesitate, to put everything in and get the most points to get the little hints and in the end Rustys treasure was found by the new generation of RustyLove family. 
We had tons of fun, the afternoon followed up by a charity raffle this time upon approval of all participants in the name of our rescue dog Buddy, who will be in need of wheel-cart for him soon. 
I just feel so grateful for everyone, who brought some items, bought coupons and just had fun and participated in our family event. After the years of shows, training camps and events, it is always just an utmost pleasure to see, that our dogs bring together families, friends and we can have a good ambition-free and wholeheartedly enjoyed family oriented fun time. 
Year by year we have more babies and juniors attending and it is a great priviledge for me as a breeder to be invited to the human family lifes as well and see next generations of our beloved friends and puppy buyers grow up and have fun with us. 
Thanks to all for this fantastic injection of positivity, support and great times. I hope to see you all next year for our annual 5th year RustyLove F&F (friends&family) weekend. Love you all. 
Thanks for the greatest photos to Paja Kohout and Tomas Novak. Thanks for making these special memories for us. 
Above you can see how much fun we had, the photogallery is very large so give it some time to load up :-) thanks.